You have probably by now engaged your colleagues in developing a sustainability strategy but it is also the perfect opportunity to shift your focus to engage with external stakeholders.
Firstly think about who your stakeholders are
The Cambridge Dictionary describes stakeholders as a person such as an employee, customer, or citizen who is involved with an organisation, society, etc. and therefore has responsibilities towards it and an interest in its success (2). Stakeholders stretch to include your shareholders, investors, suppliers, customers, the government, not for profit organisations, academic partners and the public, and that isn't the exhaustive list.
A sustainability strategy therefore should not only identify and tackle the issues that matter the most to the company, but also those that matter to the stakeholders (1). Key is mapping them, engaging with them and identifying how your relationships can help further your sustainability strategy, which will ultimately help with its implementation. This can often be achieved through a materiality assessment. By talking to internal and external stakeholders you can help identify an organisation's most "material issues" and determine what should be reported and prioritised (3).
Here's an example of a materiality matrix from Unilever from 2019/20. This clearly shows the issues that are important to Unilever's stakeholders and also the impact on the business.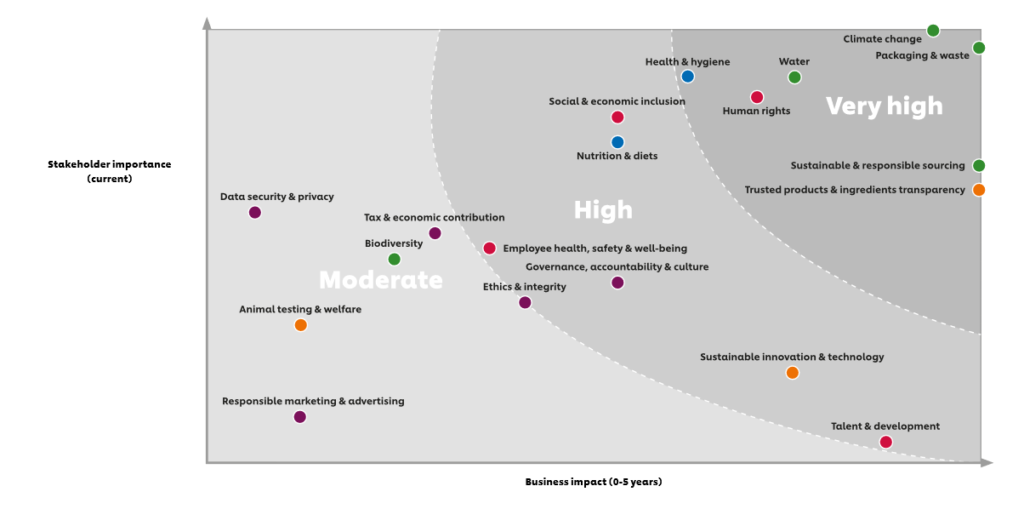 You can look beyond your business and sector too. There might be other industries that are facing similar sustainability challenges with which you could collaborate and partner. For example, Amazon co-founded The Climate Pledge which is a call to all businesses and organisations to work together to address the climate crisis and the challenges of decarbonising the economy.
Why do you need to engage your stakeholders?
1. They provide expertise – Listening to them early on and understanding their perspective and particular challenges will make for a more effective and better implemented strategy (4).
2. They could help reduce or uncover risk – They provide a well-rounded view (4), an outsider's view, which can provide early warning signals. They can challenge the implementation of the strategy in a way that internal stakeholders can't (1).
3. There is an opportunity to identify potential areas for collaboration or innovation.
The task ultimately will be achieving the right balance between the needs of the business and those of the stakeholder in the implementation of your sustainability strategy. However, by engaging with your external stakeholders you will likely increase your chance of success and in the future, they are more likely to be accepting and supportive of your strategy.
(1) https://corporate-citizenship.com/wp-content/uploads/dlm_uploads/Sustainability-Strategy-Simplified1.pdf
(2) https://dictionary.cambridge.org/dictionary/english/stakeholder
(3) https://www.greenbiz.com/article/how-make-your-materiality-assessment-worth-effort
(4) https://www.greenbiz.com/article/how-engage-stakeholders-sustainability#:~:text=Engage%20stakeholders%20sooner%2C%20rather%20than,early%20on%20in%20the%20process.
Written by Claire Jones and edited by Rania Al-Baroudi Wharton.