No business is too small to play its role in the collective effort to reach net zero. Most SMES want to be more sustainable but are unsure where to start.
How is the UK government engaging with and supporting SMEs in the combat to reduce their emissions? This is the all-mighty task of the passionate team behind the SME Climate Hub UK, an online one-stop-shop with a wealth of tools and resources to encourage SMEs to take action.
We talk to Catherine Westoby and Sam Lux, senior policy advisor on public engagement and behaviour change on net zero, from the Department for Business, Energy and Industrial Strategy to find out more.
Catherine, Sam, tell us a little about yourselves and the team behind the UK SME climate hub
We're a small but mighty team in the Net Zero Strategy Directorate in BEIS. Our remit is net zero business engagement within the UK. Last year in the run up to COP26 we focused on empowering small and micro businesses to make a net zero commitment and start taking beneficial actions to cut their emissions.
Catherine is our Team Leader. Last year she led the Together for Our Planet Business Climate Leaders campaign for Andrew Griffith MP in his role as UK Net Zero Business Champion ahead of COP26. Catherine has over ten years' experience in stakeholder engagement, having worked at Transport for London before joining BEIS in March 2020. During that time she led several high profile campaigns, including the stakeholder engagement campaign ahead of the introduction of London's Ultra Low Emission Zone (ULEZ) in April 2019.
Sam's joined BEIS in January 2021 after working in climate behaviour change in a local authority. Prior to starting this role, Sam had launched an energy saving competition among local leisure centres, and she led on social research in an EU-funded energy behavioural change technology project. She also undertook a three month research trip across the States on the sustainability stories of US cities.
So what exactly is the SME climate hub and how does it support SMEs in practice?
The SME Climate Hub was founded by Race to Zero, the We Mean Business Coalition, Exponential Roadmap and International Chamber of Commerce. It is a global platform for SMEs to make an internationally recognised climate commitment to join the United Nations' Race to Zero campaign, and access best-in-class tools and resources to mitigate their environmental impact and build resilient businesses for the future.
The SME Climate Hub is here to help small businesses deliver on their climate goals. SMEs that make the Climate Commitment can access an increasing number of free tools and resources to begin their climate action journey and track their progress along the way.
Leading up to COP26, we partnered with the SME Climate Hub in order to build a UK landing page called the UK Business Climate Hub. Here SMEs can get help and advice on how to be greener and save money, and hear the inspiring stories of businesses who have already made progress. Whilst the UK Business Climate Hub page is suited to a UK audience, it does link to the SME Climate Commitment and SME Climate Hub tools library which are international pages accessible to businesses all over the world.
You were behind the UK's Together For Our Planet campaign to encourage businesses to tackle climate change in the lead up to COP26. How was the campaign received and what achievements are your most proud of?
We were delighted with how enthusiastically our campaign was received by the businesses we spoke to. Despite the difficult circumstances, there was a huge amount of support throughout and leading up to COP26 and the UK Business Climate Hub was attracting around 90,000 visitors per month.
By COP26, UK businesses accounted for around 80% of global signups so we are very proud of that, but perhaps even more exciting is the diversity of businesses we managed to reach, both directly and through our brilliant partners. As a result we now have a fantastic library of case studies across all four nations and all regions in the UK, and covering a wide variety of sectors.
From experience we know that sharing the stories of actual UK businesses who can be transparent about their successes in reducing emissions and challenges they have faced is amazingly powerful, so we know this is a very valuable legacy of the campaign.
How did you reach out to small business owners to engage and encourage them to join the race to zero?
Our approach was multi-faceted. At a national level, Andrew Griffith MP, the then Net Zero Business Champion, convened a Taskforce of influential organisations including BT, Natwest, and Royal Mail who helped us reach small businesses in their supply chains and online, while of course we worked closely with our own communications team to reach businesses on social media.
We ran a series of regional events online called 'Your Business Journey to Net Zero', which brought together local business communities, inspiring business leaders and government ministers to celebrate SME success stories and support available at various levels.
At a more granular level we also co-created a 'Train the Trainer' package of resources, which we piloted with local Growth Hubs. Across each of the 10 cluster leads we ran a session going through the campaign and how to use the prepared resources to engage local businesses on net zero and the Race to Zero.
Meanwhile, we partnered with leading trade associations who helped us by sharing content with their memberships, inviting us to speak at their events and, in some cases even setting up bespoke webinars to spotlight the campaign.
Closer to COP26 itself we launched the Heroes of Net Zero competition, which invited all UK businesses with 50 or fewer employees to tell us about the steps they were taking to reduce emissions for the chance to win a £4500 prize package and to attend an awards ceremony at COP26 itself.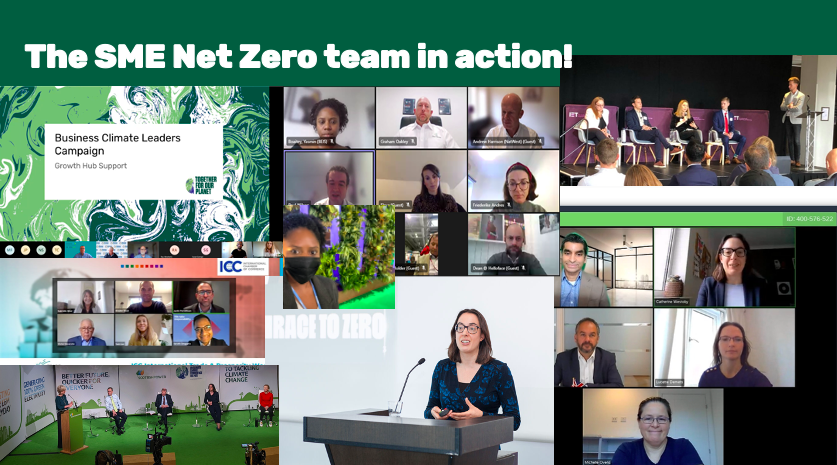 The concept of net zero and cutting emissions is baffling for many small businesses. Where do you suggest they start on their net zero journey?
We set up the UK Business Climate Hub to set out some top actions businesses can take to start reducing their emissions so suggest taking a look there. This includes some cross-cutting actions which are probably relevant to most businesses, but also some sector-specific tips in some of our key industries.
After making the SME Climate Commitment, businesses can now access a free online course called Climate Fit which is designed for businesses who are complete beginners. The course consists of seven modules that break tasks down into achievable steps. The course is highly interactive, self-paced and presents case studies on other businesses who are leading the way on climate action.
There is also a wider open access tools library on the SME Climate Hub with helpful guides and resources. A good starting point might be The 1.5°C Business Playbook, which contains solid guidelines for businesses to set targets, strategy and action. It focuses on simplicity and speed and is grounded in the latest science.
For many small business owners the perceived additional cost of making more sustainable choices is a barrier to action. Is there any support or advice available for SMEs to finance their transition to more sustainable practices?
At a national level there are currently three schemes open to small businesses:
Cycle to Work schemes are employee benefit schemes that enable employees to hire cycles for active travel and/or cyclist's safety equipment from the employer, or from a third party, in return for a deduction from their earnings known as salary sacrifice. If the scheme meets the relevant criteria it can benefit from a tax exemption. Since a portion of the salary is foregone, the employee pays less tax and NICs, and the employer is able to save on employer NICs at 13.8% and Apprenticeship Levy at 0.5% on the amount sacrificed.
The Workplace Charging Scheme (WCS) is a voucher-based scheme that provides support towards the up-front costs of the purchase and installation of electric vehicle chargepoints.
The Plug-in Charging Grant Scheme offers discount on the price of brand new low-emission vehicles through a grant the government gives to vehicle dealerships and manufacturers.
Businesses in England may also be able to access support via their local Growth Hubs, who they can get in touch with to find out more, while businesses in Scotland may be eligible for grants from Scottish Enterprise.
The SME Climate Hub has recently published an Access to Finance Guide which is available for businesses who have made the SME Climate Commitment.
Did you go to COP26 and if so how was it? I hear it was pretty gruelling for most!
Sam was lucky enough to spend a few days in the Blue Zone at COP26. While it was an intense experience, she found the speakers, discussions and general atmosphere to be incredibly energising. One of the highlights was of course the awards ceremony of our Heroes of Net Zero competition which went down brilliantly, and she was particularly struck by the peer-to-peer connections made in the space of just those few hours.
Overall the level of business participation at the conference was unprecedented compared to previous COPs, which was very rewarding for our team after many months of intensive engagement work.
---
Written by Fleur Record Smith, Reviewed by @sarahwixey
References and further reading
Climate Fit online training course