Why does our business need a sustainability policy?
Your sustainability policy is an opportunity for you to share with your stakeholders what actions you are taking. This adds credibility and transparency to your sustainability claims whilst setting yourself apart from competitors. It is more of a statement than a detailed action plan and sits alongside and in alignment with your overall sustainability strategy.
More and more business and public departments are putting in place procurement policies that align with their own sustainability strategy. So be prepared, they will be looking at your environmental credentials closely if they are considering selecting you to become part of their supply chain.
It's also good for your brand and reputation, showing your customers that sustainability means more to you than generic language on your website. With 32% of consumers in the UK highly engaged in adopting a more sustainable lifestyle and 1 in 3 consumers having stopped buying products due to ethical or environmental concerns [1], you can no longer afford not to have one. Your sustainability policy aligns with your business' overall sustainability strategy.
Who is our target audience?
Before you start with putting together your sustainability policy, be sure to ask yourself who your target audience is. For most SMEs, your key audience will be other businesses who are considering working with you, customers who want to check your green credentials before purchasing from you, communities where you operate or prospective investors to name a few. It is therefore important that you identify who your audience is so that you can engage with them by including relevant content and adopting the right tone.
What are the key attributes of a good sustainability policy?
There is no one size fits all format for a good sustainability policy but here are a few key attributes that you should consider when you are creating your policy.
Honesty and transparency
Demonstrate that you have identified sustainability as a top priority for your business, that you are taking genuine action to address your impacts and reporting openly on successes as well as challenges.
Measurability through tracking and targeting
If you want your policy to be credible, you need to ensure that you can measure your progress with supporting data and set targets accordingly. For example, if you want to set a target to achieve 100% landfill diversion, you will need to track your waste output per waste stream and location/ department to measure your progress.
Accountability
Ensure that your policy sets out how you will review your data and targets, ideally through an annual review procedure. Seeking accreditations from an external body is also a great way to demonstrate your credibility through a 3rd party auditing process, either an industry specific standard or an ISO 14001 certification.
What content should be included in a sustainability policy?
Bearing in mind who your target audience is, you need to ensure that the content of your policy is relevant and accessible to them, so here are a few key content areas to cover:
Put sustainability at the heart of your business strategy
Building on your company values and purpose, show how sustainability is embedded into your business strategy and part of your day-to-day priorities and operations.

Lay out the key sustainability topics that you have identified as a priority for your business
You want to focus on the areas where you can create maximum impact, whilst also keeping in mind what issues are important to the business and those that your business can make a difference on [3], see for example Sainsbury's "core pillars to tackle climate change" [4].

Your carbon footprint
Where does your environmental impact come from and how can you reduce it? Include a description of your main emission sources, how you are measuring them and how you are tackling them. Why not include an illustration of your carbon footprint, like this example by Pukka Teas [5]?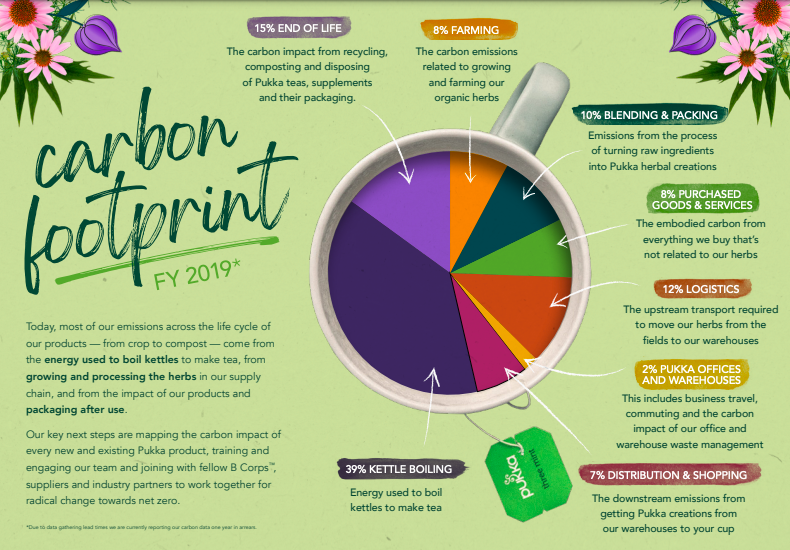 Your targets and timeline
Make sure you set ambitious but achievable targets within a realistic timeline, that you can measure and review regularly. Ideally you would include some immediate-, medium- and long-term targets and if you have not already done so why not join the UK Business Climate Hub and commit to Net Zero [6]?
Of course, don't forget to mention the steps you have already taken like in this visual from Pukka Teas [5].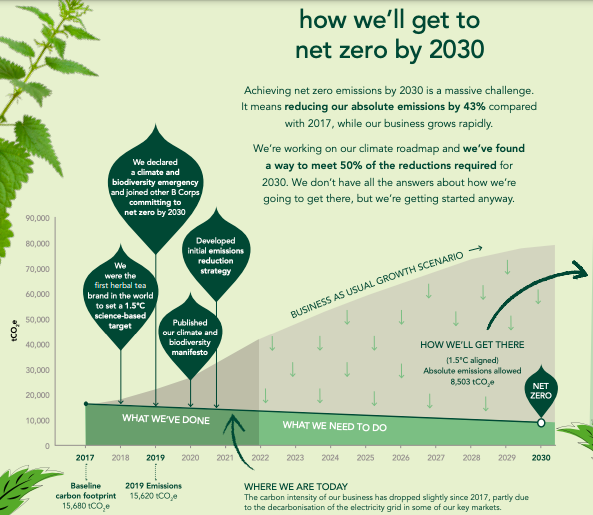 Your supply chain
For many businesses, much of their environmental impact lies within their supply chain (scope 3), so showing that you are proactively addressing this is key.
Some examples of what you may want to include could be: do you ask for their environmental policy when you go to tender? Do you have a set of standards for your procurement (for example buying only organic or locally sourced products)?
Even if you only work with small businesses that don't yet have an environmental policy, you can still be proactive by starting conversations with them to encourage them to address sustainability, which is worth mentioning in your policy.
Accreditations
Include any certifications that you have gained or are working towards achieving. Whether these are industry specific or wider ranging bodies (Fairtrade, RainForest Alliance) or recognized frameworks (ISO 14001, BCorp, Ecovadis etc.) they will add credibility to your commitments given that the accreditation process involves a third-party audit.
What should we avoid putting in our sustainability policy?
Avoid making claims that aren't true or over claiming, which could leave you open to being accused of "greenwashing".
How can we make our sustainability policy engaging?
Your sustainability policy should be a key component of your communication strategy. It is important to make it as accessible and engaging as possible.
Consider the tone and language of the report to make it accessible to your audience.
Avoid over complicating it or going into too much detail. Pages and pages of data is not what your audience wants to see, so keep it concise.
Use engaging imagery and simple infographics to make the content visually appealing and unique to you or your business. Here is an example from Aviva[7].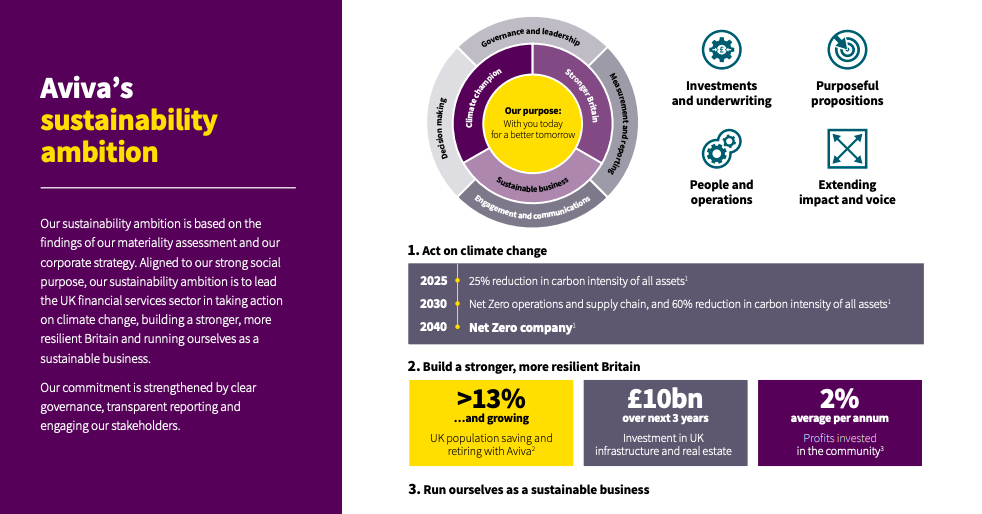 Where should it be published?
Your sustainability policy needs to be easily accessible therefore it should be easy to find on your website.
Should it be reviewed regularly?
Yes, your sustainability policy should be reviewed annually at least when you have reviewed your targets and data.
---
References and further reading
[1] https://www2.deloitte.com/uk/en/pages/consumer-business/articles/sustainable-consumer.html
[2]https://assets.unilever.com/files/92ui5egz/production/ebc4f41bd9e39901ea4ae5bec7519d1b606adf8b.pdf/Compass-Strategy.pdf
[3] https://www.mckinsey.com/business-functions/sustainability/our-insights/organizing-for-sustainability-success-where-and-how-leaders-can-start
[4] https://www.about.sainsburys.co.uk/sustainability/better-for-the-planet#:~:text=Our%20core%20pillars%20to%20tackle%20climate%20change&text=For%20Scope%201%20and%202,ambition%20of%20the%20Paris%20Agreement.
[5] https://unlv-p-001-delivery.stylelabs.cloud/api/public/content/pukka-2020-impact-report?v=9151e1f2
[6] https://smeclimatehub.org/uk/
[7] https://www.aviva.com/sustainability/
Example of short sustainability policies:
https://glasgowfilm.org/assets/files/Environmental-Policy-2020.pdf