Let's start with some definitions. Food intended for human consumption that is not consumed is defined as Food Loss or Food Waste, depending on where it occurs in the farm-to-fork supply chain (Figure 1).
The two combined represent 30% of all food produced, or 1.3 billion tonnes, with a value of $750 billion and a carbon footprint of 4.4 billion tonnes of CO2e [1]. If these emissions were to be a country, it would rank as the third biggest emitter after China and the US.
The current food system is incredibly inefficient; in fact, the forecasted 10 billion people that we will need to feed by 2050, could be fed without increasing food production if we found ways to use the food that we currently waste.
The United Nations Sustainable Development Goal target 12.3 is to "halve per capita global food waste at the retail and consumer levels and reduce food losses along production and supply chains, including post-harvest losses, by 2030" [2].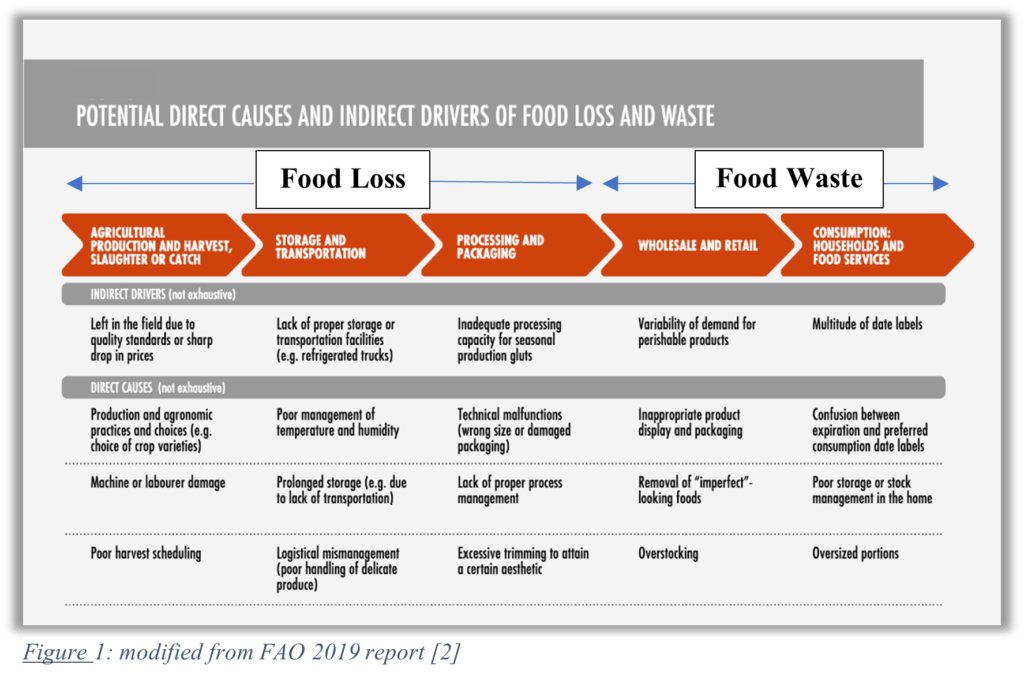 Figure 1 outlines some of the causes for food loss and waste. Food Waste, at the retail and consumption level, is a major contributor to the total food lost and a particularly acute problem in high-income countries, like the US and Europe. Data from the EU show that the largest share of food waste is generated at consumption, e.g., 46% of total food lost, or 129 million tonnes [3].
Consumer waste is often the result of several factors:
poor purchase planning and excess in-home storing
excess and impulse buying, pushed by promotions and bulk discounts
confusion over the meaning of "best before" and "use by" dates
oversized portions and packaged goods.
So, what can we do about it?
Answers can be found in the principles of the circular economy as shown in Figure 2.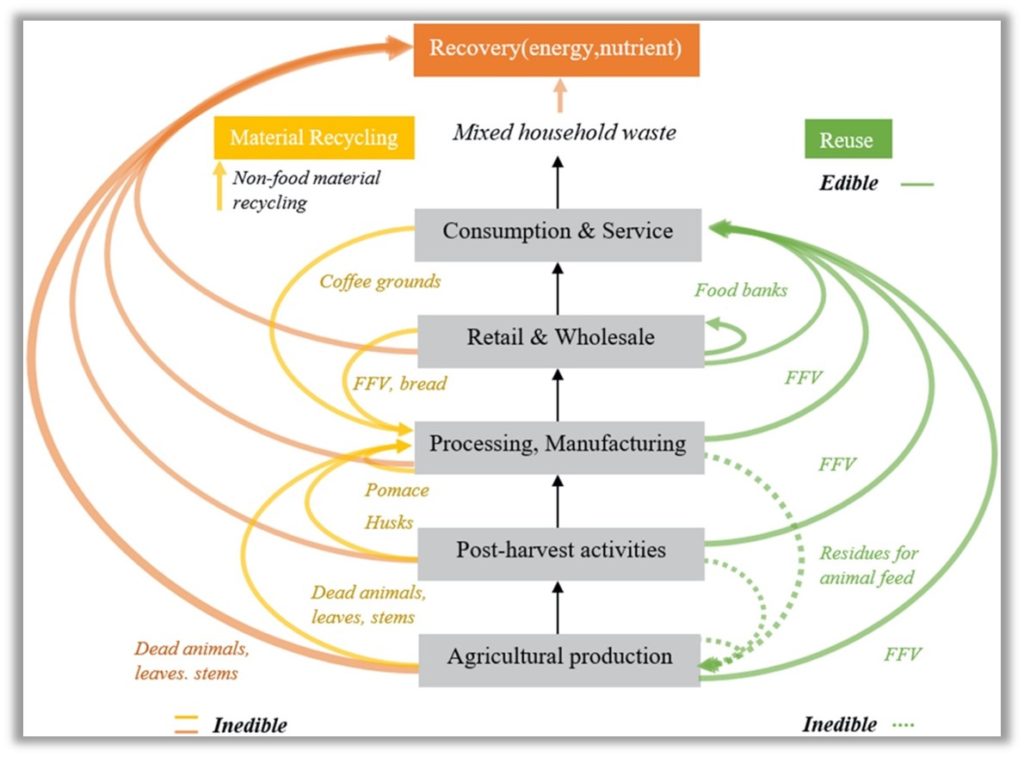 Reduce
Businesses in food retail and food service can help consumers reduce food waste by improving labelling. Product mislabelling and confusion amongst consumers is reported to be the cause of 10% of food waste in Europe and 20% in the USA.
The UK initiative "Label better, less waste" provides useful guidance on the optimal use of date labels in food products:
– the "Use By" date shows that the food is highly perishable and is likely to constitute a food safety hazard after a short period of time; it should be used only for these kinds of products and under expert guidance.
– the "Best Before" date indicates the period for which a food retains its optimal quality. Provided it is stored properly, it can be consumed beyond the "Best Before" date without safety concerns, but it may not be at its best.
This successful UK campaign managed to reduce the utilisation of "Use By" date in pre-packed hard cheese from 25% to 3%, and in chilled orange juice from 94% to 4% [5].
Appropriate food processing and packaging material is also extremely important in maintaining food freshness and accessibility; in many cases plastic packaging is an irreplaceable ally in reducing spoilage and waste.
Reuse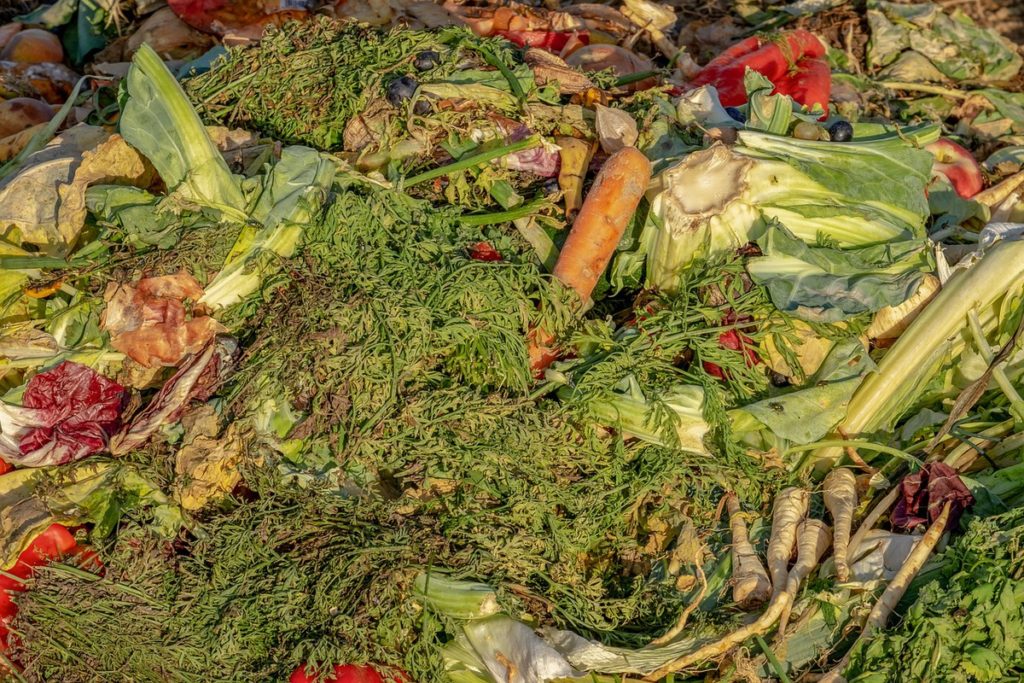 Food retail and food service companies are a significant source of food surplus, which is at risk of being wasted. Several initiatives have successfully redirected food surplus to potential end consumers. These initiatives represent an opportunity to generate environmental, economic, and social return from food surplus.
Too Good To Go is a B-Corp certified online business that offers the food surplus generated by food businesses, restaurants, and cafes, to potential consumers at reduced price, via a smartphone application.
The Company Shop Group redistributes surplus from food manufacturers and retailers through a chain of discounted, members only, company shops and community shops in the UK.
There are many more examples of similar initiatives in different countries around the world, demonstrating a growing awareness and desire to act from producers, retailers, and consumers.
Upcycle
"Upcycled ingredients and food products elevate food that would otherwise be wasted to higher uses and have tangible benefits to the environment and society". This is the definition of upcycling in relation to food products, adopted by the Upcycled Food Association. [6]
Soybean, almond, and oat pulps are side streams of plant-based milk productions and can be turned into nutritious flours for baking.
Sunflower flour is a by-product from the sunflower oil industry that can be used to significantly improve the nutritional quality of muffins and biscuits [7].
The list of examples is endless.
Amongst the most advanced examples of upcycling is the use of spent coffee grounds [8]. They are a major waste stream of the coffee value chain, representing 45-50% of the coffee cherry and estimated at 18 million tons yearly.
Innovations to extract value from spent coffee grounds are numerous and growing, from the extraction of valuable flavours, antioxidants, proteins, minerals, to the production of compostable single-use cutlery. Coffee shops and food retail businesses should partner with a local upcycling company to valorise this incredibly valuable waste stream [9]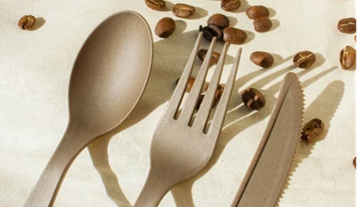 Capturing Value
These are some of the ways of capturing the intrinsic value of food surplus and food waste.
There is clearly social value in redistributing surplus food to people in need, despite a possible slight increase in costs or effort when redistributing for reuse rather than disposing of the excess food.
New ideas, new attitudes, and new technologies are continuously emerging to allow the extraction of economic value and the application of the circular economy principles to food surplus and waste. According to a recent study, the potential value generated by 27 specific food waste interventions is $100 billion in 10 years in the US only (FAO report page 58). [1]
The environmental gains of reducing, reusing, and upcycling food waste have been already mentioned and represent an opportunity to build and reinforce a positive brand reputation and drive greater engagement and preference with consumers.
Written by Andrea Cattaruzza and edited by Rosa Quarato and Dave Caygill
References and further reading
[1] FAO, "The State of Food and Agriculture 2019. Moving forward on food loss and waste reduction," 2019. https://www.fao.org/3/ca6030en/ca6030en.pdf
[2] FAO, "Sustainable Development Goals." https://www.fao.org/sustainable-development-goals/indicators/1231/en/
[3] C. Caldeira, V. De Laurentiis, S. Corrado, F. van Holsteijn, and S. Sala, "Quantification of food waste per product group along the food supply chain in the European Union: a mass flow analysis," Resour. Conserv. Recycl., vol. 149, no. August 2018, pp. 479–488, 2019.
[4] D. A. Teigiserova, L. Hamelin, and M. Thomsen, "Towards transparent valorization of food surplus, waste and loss: Clarifying definitions, food waste hierarchy, and role in the circular economy," Sci. Total Environ., vol. 706, p. 136033, 2020.
[5] UK Food Standards Agency, "Labelling Guidance," 2019. https://wrap.org.uk/sites/default/files/2020-07/WRAP-Food-labelling-guidance.pdf.
[6] O. Spratt, R. Suri, and J. Deutsch, "Defining Upcycled Food Products," J. Culin. Sci. Technol., vol. 19, no. 6, pp. 1–12, 2020.
[7] S. Grasso, T. Pintado, J. Pérez-Jiménez, C. Ruiz-Capillas, and A. M. Herrero, "Characterisation of muffins with upcycled sunflower flour," Foods, vol. 10, no. 2, pp. 1–7, 2021.
[8] R. Campos-Vega, G. Loarca-Piña, H. A. Vergara-Castañeda, and B. Dave Oomah, "Spent coffee grounds: A review on current research and future prospects," Trends Food Sci. Technol., vol. 45, no. 1, pp. 24–36, 2015.
[9] Bio-Bean, "Zero waste week: put your waste coffee grounds to work." https://www.bio-bean.com/news-post/zero-waste-week-put-your-waste-coffee-grounds-to-work/.