Empowering your people to buy into your strategy and integrating sustainability into your operating model are key to getting your plans off to a good start. But to truly engrain sustainability into your company's DNA you need to proactively talk about and share your sustainability strategy internally.

Sharing and reviewing your sustainability strategy
Communication is used to engage employees and showcase the progress on your sustainability commitments to which they are contributing [7]. This is crucial because when there is a lack of internal communication within an organisation, it is tough to implement the changes needed to be more sustainable [8].
On top of all of this, sustainability is often characterised as being a complex, sometimes an intangible topic to grasp. Clear and relatable communication is therefore key to successful integration in your organisation.
Where to start?
The steering committee
Utilise the steering committee as an army of advocates to champion sustainability in the organisation. Energising them with the responsibility to co-create the communications strategy and own the internal reporting. This will build the motivation needed to embed your strategy and provide the opportunity to showcase the values created earlier and cement these into your organisational culture.
Think about physical and visual cues
This example from Bloom & Wild, an online florist compares the CO2e emitted from a bouquet to the equivalent in pasta and yearly savings the same as the weights of 250 elephants.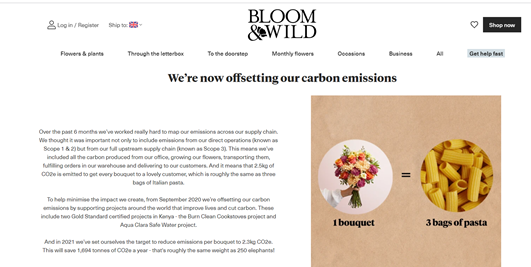 Source: https://www.bloomandwild.com/sustainability
These will aid your colleagues to envision your sustainability strategy. Can you create prompts, dashboards or even signage to help breakdown what you are trying to achieve to make it understandable and relatable?
In doing so, make sure you keep the language positive and encouraging (avoiding the stereotypes and jargon). Be mindful also to keep it on brand with your colour pallet, logo and tone of voice.
And it isn't just about new materials either. Think about how you can integrate your sustainability policy into the organisation's culture through existing content. Think of your staff handbook and wider policies which help reinforce your vision, values and sustainable culture whilst also sharing some practical tips on expected behaviour.
Leading by example
Colleagues taking cues from others and leading by example is really important. All managers are a role model for their teams so it important therefore to make the sustainability strategy relatable. To do this make the stories customised to your organisation and the particular goals of your strategy. But you can also take the opportunity to invite external leaders in as speakers to motivate and inspire your staff and let them see the bigger picture.
Integrate the strategy into everyone's role
To do so, it is crucial to make sure that progress towards your goals are easily accessible and transparent so at any one point in time colleagues know how the company is progressing. Achieve this through regular feedback on progress but also celebrating the successes on an individual level. Don't be afraid to feature employees, customers or people in the wider community. People love to hear about people. "Sarah saved 4,000 sheets of paper by sending e-statements" is far more engaging than "we reengineered the billing process to save 4,000 sheets of paper".
Listen to your team
Employees are more productive when they feel they belong, are heard and able to be their authentic selves. 73% of those that feel they belong, say they are empowered to perform their best work [9]. This showcases the importance of a clear and transparent regular feedback loop which gives colleagues the opportunity to propose new ideas, feedback on progress and challenge the status quo.

Remember having a sustainability strategy isn't enough, it needs to be a strategy that colleagues can truly understand, relate live and breathe. They are the lifeblood of the strategy. By focusing on the three building blocks of people, processes and communication, you are a step closer to achieving that.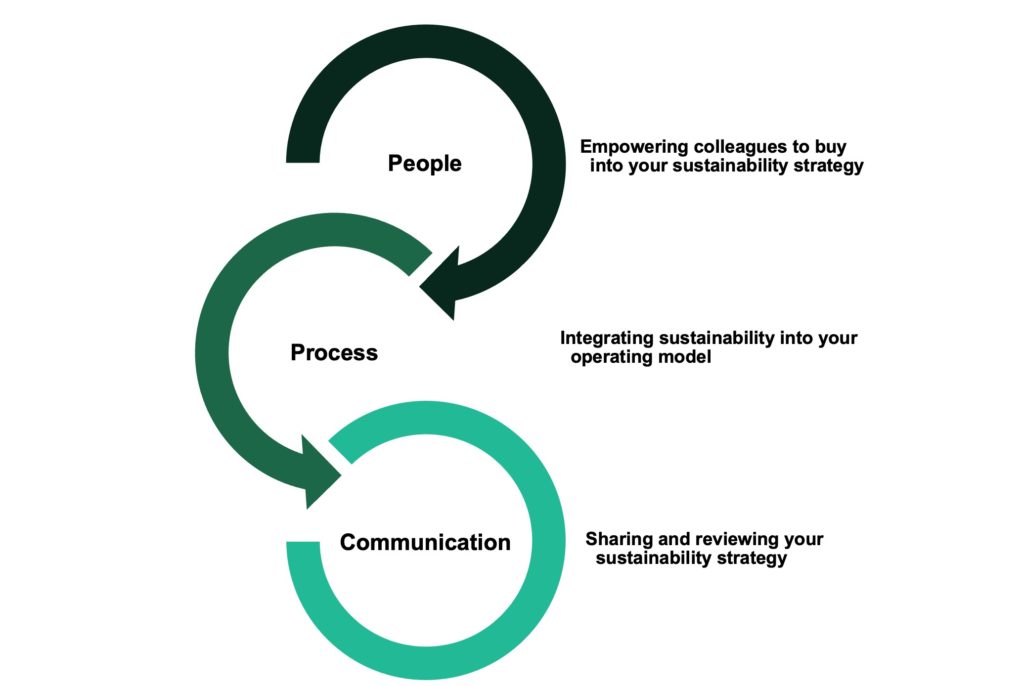 Written by Fleur Record Smith and Claire Jones, edited by Rosa Quarato and Rosie Davenport.
References and further reading
[1] https://www.forbes.com/sites/forbeshumanresourcescouncil/2021/09/08/why-a-successful-business-strategy-depends-on-listening-to-your-employees/?sh=1faf4e8b6bcc
[2] https://hbr.org/2017/11/executives-fail-to-execute-strategy-because-theyre-too-internally-focused
[3] https://www.ey.com/en_gl/strategy/why-sustainability-has-become-a-corporate-imperative
[4] https://www.pwc.nl/en/onze-organisatie/corporate-sustainability/sustainable-develoment-goals/sdg-impact-measurement-in-six-steps/sdg-impact-measurement-background-information.html#indicators
[5] https://www.gov.uk/government/publications/smart-meters-in-the-public-sector/an-introductory-guide-to-smart-meters-for-the-public-sector-accessible-webpage
[6] https://www.edie.net/news/7/FTSE-100-firms-increasingly-linking-executive-pay-to-ESG-measures/
[7] https://www.thesustainability.io/importance-of-sustainability-communication-and-sustainability-strategies
[8]https://www.researchgate.net/publication/315466760_The_Importance_of_Communication_in_Sustainability_Sustainable_Strategies/link/58d12821458515520d581256/download
[9]https://www.salesforce.com/content/dam/web/en_us/www/assets/pdf/datasheets/salesforce-research-2017-workplace-equality-and-values-report.pdf